Vacuums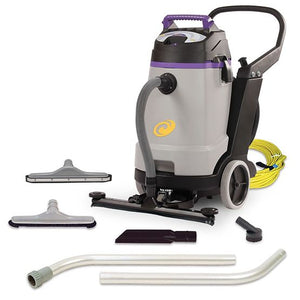 ProTeam started in a garage in 1983, where Larry Shideler, then the owner of a commercial cleaning operation, utilized PVC pipes, a powerful motor and several different filters​ to create the original lightweight backpack vacuum. He called it the QuarterVac
®
, and put it to work to astonishing results. He found the backpack vacuum dramatically improved worker productivity, effectiveness and ergonomic comfort. By combining a Four Level
®
 Filtration system with a powerful motor for improved suction, the backpack also extracted and eliminated more dirt than a commercial upright, canister or dust mop.
His innovation sparked a change in thinking and process that took the industry by storm. Maintenance crews in every arena—from education to contract cleaning to hospitality—quickly found that ProTeam backpacks saved time, money and resources while improving indoor air quality. With durable materials and fewer moving parts, ProTeam vacuums also last for years, while reducing repair and maintenance costs.
Over the following decades, many scientific studies revealed the immense impact of Indoor Air Quality on health and productivity at work, school, and in the home. ProTeam responded by redoubling efforts to teach users about Cleaning for Health and improving Indoor Air Quality. In 2003, ProTeam formed a partnership with the American Lung Association to educate the public about the importance of healthy indoor air – a partnership that still endures today.
In 2009, Emerson, a diversified global manufacturing and technology company, acquired ProTeam, and the legacy of innovation and Cleaning for Health continued with the Next Generation of backpack vacuums, the Super Coach Pro®.
Today, ProTeam offers a wide range of innovative vacuums designed to tackle every cleaning situation while improving Indoor Air Quality, including canisters, uprights, wet/dry vacuums, cordless solutions and the world's best-selling backpacks.
Vacuums